June 30, 2023
6 Tech Tools You Need Now!
THE 6 APPS YOU ABSOLUTELY NEED TO BE USING IN YOUR REAL ESTATE BUSINESS TODAY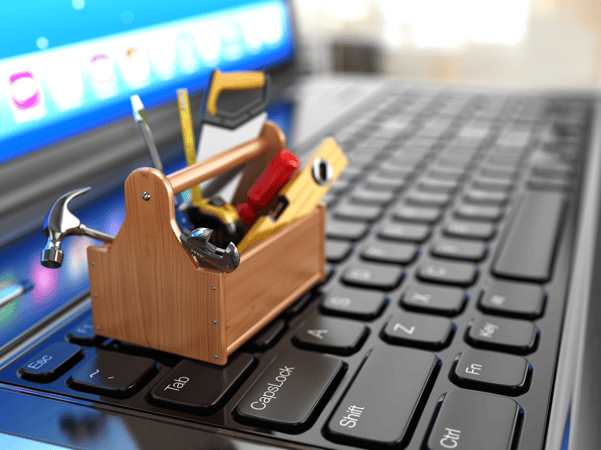 Today's real estate agents aren't just negotiators or even entrepreneurs. In a way, agents have turned into software experts. The top agents in almost every market are eager and willing to explore new technologies and tools as they emerge, even if they're not entirely sure how those tools might end up benefiting their business.
If you don't feel like you're personally on the cutting edge of apps and widgets, that's okay! We've collected some of our favorite new (and tried-and-tested) technologies that real estate agents are using to help solve various problems for buyers, sellers, generating leads, or just plain keeping organized.
CALENDLY
A real estate agent's packed schedule is almost a running joke in the industry — but for the agents who have to manage their time as wisely as possible, it probably doesn't seem all that funny. How long does it take to find a time when you can meet with a first-time homebuyer for an initial consultation, or to line up a listing presentation?
Calendly connects with your existing digital calendars, allowing you to create specific types of meetings (such as a first-time buyer consultation or a listing presentation) that include the typical length of the meeting, any "buffer" or travel time that might be involved, and even a way to auto-populate a calendar invitation with a video chat link. You can send event links to meeting participants, who can easily see what time slots you have available and book a meeting with you.
The basic plan, which connects to one calendar and allows users to create one type of event, is free. For $8 per month per user, you can subscribe to the "Essentials" package and add another calendar, create unlimited event types (including group events), and send reminders and follow-ups to invitees. Further upgrades allow collective event types and routing forms, Salesforce connections, audit logs, and more. Most agents (especially those working individually as opposed to on a team) will likely be well-served with the Essentials level of service.
GOOGLE WORKSPACE
You're probably at least familiar with Google Workspace at a surface level, but if you haven't checked out the full suite of apps recently, then you might be surprised by what's available, essentially for free, right alongside your Gmail account.
There's Google Drive, where you can save and store different documents and items, including photos. You'll also get access to word processing (Docs), spreadsheet (Sheets), and slideshow (Slides) programs, chat platforms like Meet and Chat, and security tools like Admin, Endpoint, Vault, and Work Insights.
Make sure you check back regularly with Google's offerings, because they're always adding new features — some of the newest include Jamboard, a whiteboard-style sketching platform, and Apps Script, a low-code tool that integrates and automates some of Google's applications with others you use every day.
PRO TIP: Add Google Workspace FREE for one month
Show your clients you mean business with tailored .realtor™ or .realestate professional email address with Gmail inbox and Google Workspace business tools empower you to do more while building your brand and business online.

If you own a .realestate or .realtor™ domain name? Add Google Workspace FREE for one month when you use promo code GOOGLE1. Simply order here.
CHAT GPT-4
Have you ever used an AI chatbot to create a piece of content? The creators at OpenAI are at the forefront of building advanced AI tools that can save you tons of time, and the latest, Chat GPT-4, is currently only available for developers who join the API wait list and contribute model evaluations to OpenAI. But you can still get a sense for how it works!
Chat GPT allows you to enter simple instructions and receive a creative, original piece of content based on your prompts. You can upload images of a house and ask it to write a listing description, for example. Or you can request very specific (and fun) writing for your website, such as a bio outlining your accomplishments in which every word begins with a consecutive letter of the alphabet. The reasoning and creativity behind Chat GPT outputs is constantly improving. You can sign up for a free Chat GPT account to start playing with it!
NOTION
Technology is amazing in so many ways, but as new tools (and new features of those tools) emerge and get added to your belt every day, there's one thing that might be missing: organization.
Do you have a repository, or wiki, for any important documents that outline how business gets done? If not, Notion is a great place to store them; you can invite other people who need to learn how to do your job to the workspace, and they'll have access to whatever you need them to see.
Notion's documents feature allows you to take and share notes, such as meeting agendas and summaries, and the documentation is entirely searchable.
Perhaps one of Notion's most powerful aspects is its project management platform, which gives you the ability to set up a configurable project road map, which can be used to track where all of your current clients are in the home purchase process (and what needs to be done next), assign tasks to different team members, and move people from each step of the process. Or you can create multiple project management boards — one for listings and one for buyers, for example.
Notion is free for the most basic plan; collaborative plans start at $8 per user per month.
BIGVU
Taking videos and posting them on social media has become an enormous part of some agents' business — and it can be a lot harder than it looks! If you're not sure what to say, or you haven't memorized a script, then stumbles and fumbles can happen with alarming frequency.
Tools like BigVu can help you shine in all of your video endeavors. It's (in part) an online teleprompter that scrolls across your screen while you record, so that you can easily read what you want to say, then say it perfectly. It can also add automatic subtitles, logos, colors, and more.
Then, when you're satisfied with your video, BigVu can spread the word, posting it across your social media accounts for you.
The basic BigVu plan is free (and include a watermark on your videos); pricing for non-watermarked videos and more robust features starts at $18.99 per month.
A PREMIUM WEBSITE
Agents who create and maintain their own business websites will attract more leads and build better brand recognition. A personal website is an essential tool for marketing your brand. It can help increase your brand awareness and attract more quality leads—people who want to do business specifically with YOU. All agents should build a personal website that will stay with them no matter where they decide to hang their license.
A website should serve as your primary online presence. Think of it as a marketing hub that allows you to funnel traffic from all their other online profiles and social media pages to one place.
Buyers and sellers are likely to follow up with referrals by researching them online. If you have a personal website and an excellent online presence, you will undoubtedly build credibility with potential clients.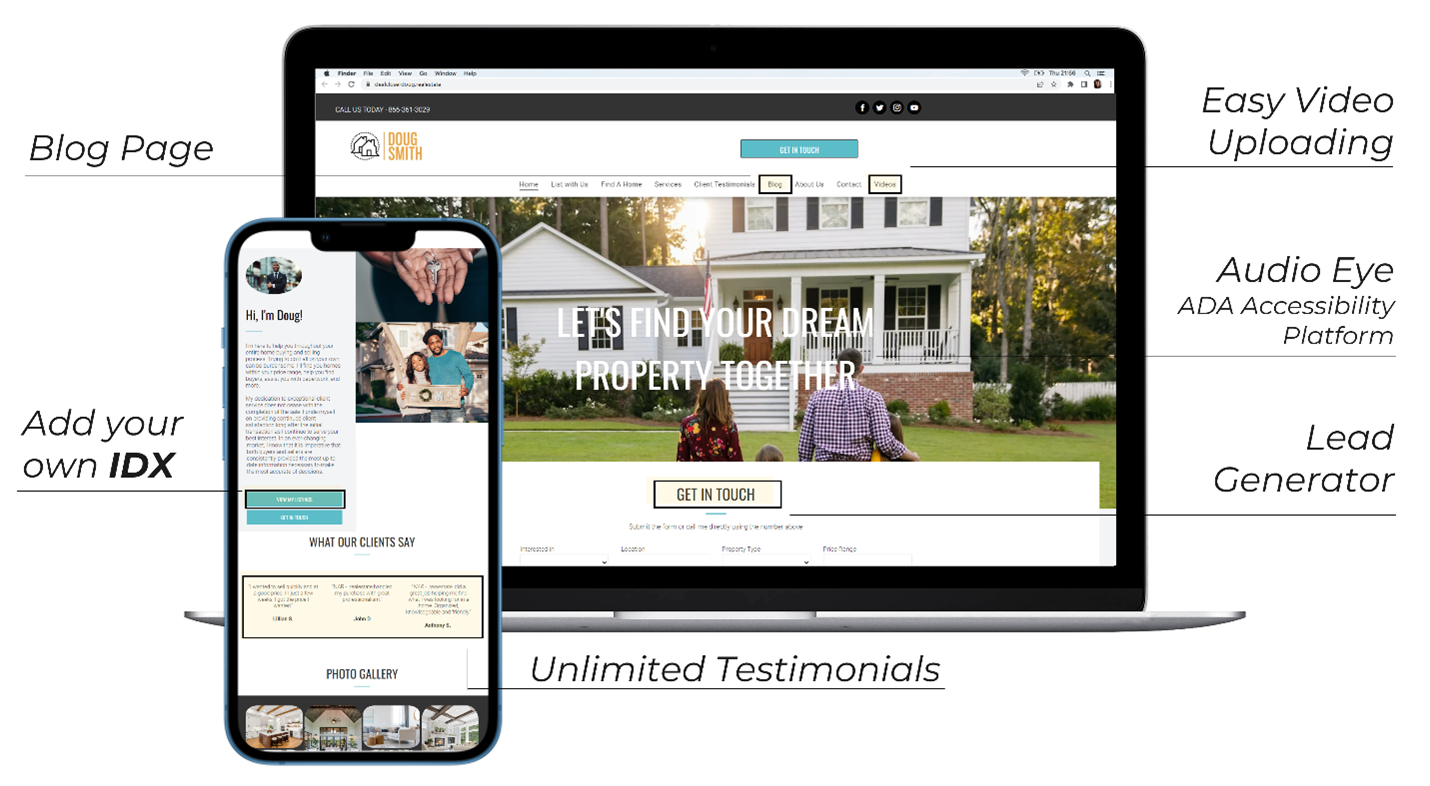 UPGRADE: Our Premium Websites Feature
AudioEye, an accessibility solution to help keep your website compliant with accessibility laws and regulations
Complete Customization Capabilities including Video Widget
Multi-Page Website Template , including a full page dedicated to video & More!
A Blog, pre-populated with content from House Logic.
A Video Widget for seamless video uploading and organizing.
And MORE!
Subscribe to email updates