September 14, 2023
Why Does NAR's iOi Matter to Your Business?
NAR's iOi 2023 Recap - What it Means For You
& Don't Miss The Exclusive Offer Below!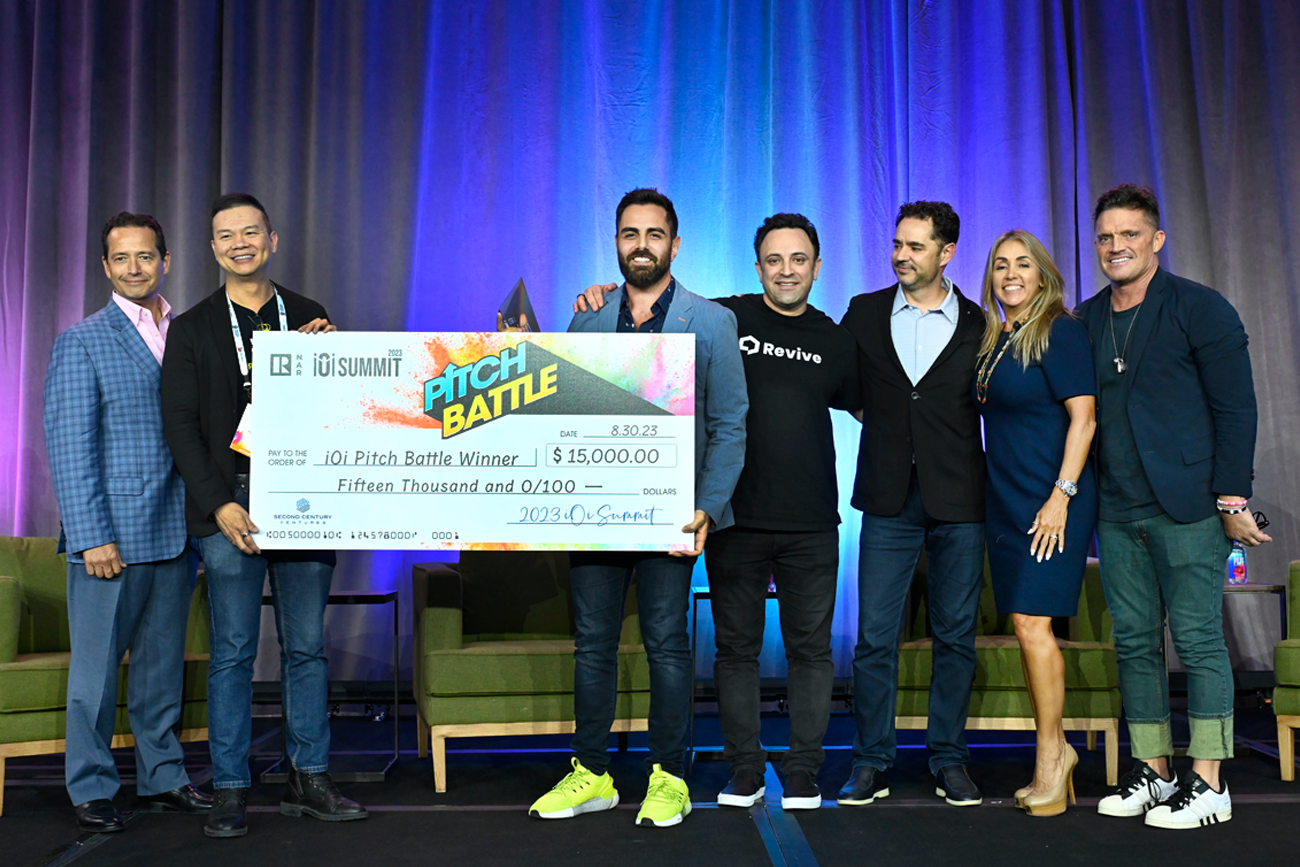 In the ever-evolving world of real estate, technology continues to play a pivotal role in reshaping the industry. The National Association of REALTORS® (NAR), a leading advocate for real estate professionals, recently held its annual iOi Summit in Miami. A highlight of the Summit is the annual Pitch Battle, a competition that showcases innovative solutions for both commercial and residential real estate markets. This year, the event offered a platform for emerging companies to present their cutting-edge tools and resources, and of course, the ceremony to crown the winner - Productive.ai.
WINNER: Productive.ai: Transforming Phone Calls with AI
The top prize of NAR's Pitch Battle 2023 went to Productive.ai, a startup hailing from San Mateo, California. This innovative company has leveraged the power of artificial intelligence to revolutionize phone conversations in the real estate industry. How do they do it? By seamlessly integrating AI into phone calls, Productive.ai enhances communication by providing real-time information and valuable insights.
The platform can automatically generate notes, summaries, tasks, events, and CRM logging during phone conversations. Imagine having a conversation with a potential client, and in real-time, the Productive.ai platform is diligently at work, searching for available properties, detecting upcoming meetings, and improving the overall efficiency of the conversation.
Joseph Wihbey, COO, and Head of Product at Productive.ai, astutely demonstrated the power of their product during the winning pitch. As he engaged in a simulated phone call with a prospective client, the audience witnessed the magic of AI at play. Tasks that once required manual effort were effortlessly handled by the platform. As Wihbey aptly put it, "You didn't build your business on automation of tasks. You built it on you and your relationships. Imagine if AI could enhance you in your relationships. Imagine if it could enhance your voice."
For their outstanding innovation and impressive pitch, Productive.ai was awarded not only the prestigious title but also a cash prize of $15,000. Additionally, they earned a booth at NAR's annual conference in November (NAR NXT) and have the honor of presenting the next Pitch Battle winner at the 2024 iOi Summit.
The NAR Pitch Battle 2023 showcased the relentless spirit of innovation within the real estate industry. Companies like Productive.ai and ListAssist are spearheading a technological revolution that promises to reshape the way professionals in the sector operate.
In an industry where change is the only constant, NAR and its strategic investment arm, Second Century Ventures (SCV), are at the forefront of supporting and propelling innovation. SCV, as the most active global real estate technology fund, is backing these visionary companies as they chart new territory in real estate, financial services, banking, home services, and insurance.
As technology continues to shape the future of real estate, events like the Pitch Battle are a testament to the industry's resilience, adaptability, and commitment to delivering the best possible experiences to consumers and professionals alike.
---
WHAT DOES THIS MEAN FOR REALTORS®?
The developments and innovations showcased at events like NAR's Pitch Battle have significant implications for REALTORS®:
Enhanced Productivity: Tools like Productive.ai, which leverage AI to automate tasks and improve communication, can greatly enhance a REALTOR'S® productivity allowing them to spend less time on administrative work and more time focusing on building relationships with clients and closing deals.
Better Customer Service: AI-driven solutions can provide real-time insights during client interactions, enabling REALTORS® to offer more personalized and efficient services leading to higher levels of customer satisfaction and loyalty.
Competitive Advantage: REALTORS® who embrace innovative technology gain a competitive edge in the market. They can differentiate themselves by offering cutting-edge tools and resources that make the buying and selling process smoother for clients.
Efficient Property Search: Innovations like ListAssist, which use AI to match properties with buyer preferences, simplify the property search process. REALTORS® can provide clients with more relevant listings, reducing the time and effort required to find the right property.
Professional Development: As technology evolves, REALTORS® may need to invest in ongoing training and education to stay current with the latest tools and trends. This continuous learning can help them remain effective in a rapidly changing industry.
Data-Driven Decision-Making: AI and data analytics tools can provide REALTORS® with valuable insights into market trends and client behavior. REALTORS® can use this data to make informed decisions about pricing, marketing strategies, and investment opportunities.
Networking Opportunities: Events like the Pitch Battle offer REALTORS® the chance to connect with innovative companies and entrepreneurs in the real estate technology sector. Building relationships with these innovators can lead to valuable partnerships and collaborations.
Adaptability: REALTORS® who embrace technology and adapt to changing industry norms are more likely to thrive in a dynamic real estate landscape. Being open to new ideas and willing to incorporate technology into their practices can lead to long-term success.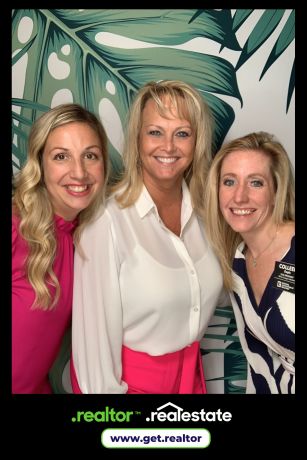 The get.realtor team with NAR's 2024 President, Tracy Kasper
.realestate Domains Changing the Industry
.realestate domains can play a significant role in the recap of developments in the real estate industry, especially in the context of innovative technology and online branding. Here's how:
Branding and Credibility: A .realestate domain can provide REALTORS®, tech companies, and organizations involved in the real estate industry with a strong and credible online presence. It signifies that your website is directly related to real estate, which can boost trust among visitors.
Memorability: A domain with a .realestate extension is easy to remember, making it more likely that potential clients or partners will recall your website when they need real estate services, technology solutions, or industry updates.
Niche Targeting: .realestate domains allow for niche targeting. For instance, if a company specializes in PropTech innovations, a domain like "PropTechSolutions.realestate" can clearly convey its focus and expertise.
Industry Relevance: In the rapidly evolving world of real estate technology, having a .realestate domain demonstrates your commitment to the industry. It shows that your website is dedicated to serving real estate professionals and consumers.
Consistency: A .realestate domain can be used for various purposes within the industry, such as showcasing innovative products and services, standing out by owning your geographical area, or offering real estate listings. This consistency in branding helps users easily identify your affiliation with the real estate sector.
SEO Benefits: Search engines often consider domain extensions when ranking websites. A .realestate domain can potentially boost your website's search engine optimization (SEO) for real estate-related keywords, making it more discoverable online.
Trust and Authority: Having a .realestate domain can enhance your website's trustworthiness and authority within the real estate community. It signals that you are a legitimate and relevant player in the industry.
Marketing and Promotion: When promoting your real estate technology, services, or resources, a .realestate domain can serve as a memorable and concise web address in your marketing materials, enhancing your brand's visibility.
Incorporating a .realestate domain into your online presence can strengthen your branding, improve your online identity's relevance, and make it easier for your target audience to find and engage with your real estate-related content or services. Whether you're a REALTOR®, a PropTech startup, or an industry organization, a .realestate domain can be a valuable asset in your digital strategy.
---
SAVE 20% on a .realestate domain today!

Looking to make your mark in the real estate industry? Now's your chance to secure a .realestate domain and save big!
🌐 Get 20% OFF your .realestate domain registration!
🏆 Stand out in the competitive real estate market.
📈 Boost your online presence and credibility.
🤑 Don't miss this limited-time offer!
Claim your .realestate domain and join the ranks of successful real estate professionals and innovators. Whether you're a REALTOR®, a tech enthusiast, or an industry expert, this discount is your ticket to a more memorable and trusted online presence.
Hurry, this offer won't last forever! Secure your .realestate domain today and take a step closer to your real estate goals. Use promo code REAL20 at checkout through September 30, 2023
👉 LINK
Subscribe to email updates