November 9, 2023
Harnessing the Power of Mindset Shifts: The Key to Real Estate Success in 2024
Success in the real estate industry requires more than just knowledge of properties and market trends. A crucial aspect of building a thriving career as a real estate agent is the right mindset.
Tami Bonnell, Co-Chair of EXIT Realty Corp Intl., is joining us in our feature webinar later this month to explore how real estate professionals can advance their careers by embracing mindset shifts that can make a significant difference in their success in 2024, and beyond!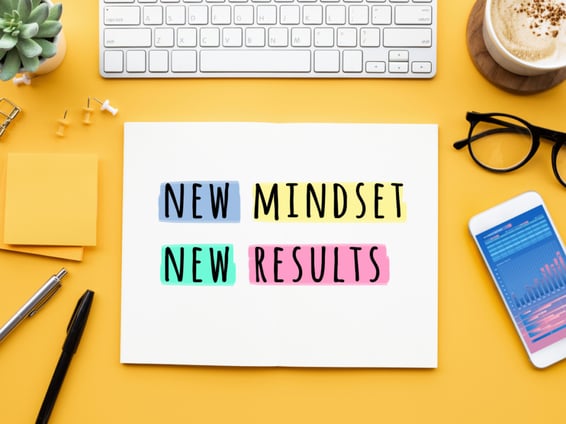 Here are the five mindset shifts you can begin to adopt today:
1. Embrace a Growth Mindset
One of the most powerful mindset shifts a REALTOR® can make is to adopt a growth mindset. A growth mindset, as popularized by psychologist Carol Dweck, is the belief that abilities and intelligence can be developed with dedication and hard work. REALTORS® who see challenges as opportunities for growth are more likely to persist through tough times and continually improve their skills.
To develop a growth mindset:
Embrace failures as learning opportunities.
Continuously seek to expand your knowledge and skills by embracing new technologies and tools to streamline your business. NAR's brand-building tools, including the .realtor™ and .realestate domains and websites, are among those that can propel your career forward.
Stay open to feedback from clients, peers, and more experienced REALTORS®, and use it to your advantage.
2. Adopt a Learning Mindset
Continuous learning is essential in a profession where the landscape is constantly evolving and influenced by factors such as economic trends, government policies, and tech advancements. REALTORS® who embrace a learning mindset stay informed and adapt to changes. This mindset shift involves a commitment to ongoing education and personal development.
To maintain a learning mindset:
3. Focus on Providing Value
Success in real estate often comes down to the relationships you build with your clients. To advance your career, shift your mindset from a transactional perspective to a value-driven one. Instead of seeing your role as simply selling homes, view it as helping clients achieve their dreams and solve their problems.
To provide value:
Listen actively to clients' needs and concerns.
Offer insights and advice that go beyond the sale.
Build trust by being honest and transparent. Always adhere to the NAR Code of Ethics to ensure that your actions and decisions align with its principles.
4. Develop a Resilient Mindset
The real estate industry can be demanding, and rejection is a common part of the job. Developing a resilient mindset is crucial for persevering through challenges and setbacks. Resilient agents bounce back from disappointments, remain optimistic, and stay motivated in the face of adversity.
To become more resilient:
Cultivate a strong support system.
Learn to adapt to changing circumstances. For example, if a new competitor enters your market, instead of being discouraged, research the new competitor, understanding their strengths and weaknesses, and identify areas where you could differentiate yourself. This allows you to refine your unique value proposition.
Maintain a positive attitude and practice self-care.
5. Set Clear Goals and Stay Motivated
Having clear, well-defined goals is a hallmark of successful individuals in any field, and real estate is no exception. Agents who set specific, measurable goals and maintain the motivation to pursue them are more likely to advance in their careers.
To set and achieve goals:
Break down long-term objectives into smaller, daily, manageable tasks.
Stay organized and keep track of your progress. A task management app or software can help you breakdown your long-term objectives into smaller, daily or weekly tasks. They help in making complex goals more achievable and less overwhelming. We offer affordable business tools, like Google Workspace, that do just that.
Celebrate your achievements, no matter how small they may seem!
Mindset shifts like these are the foundation for building a lasting and thriving career in this exciting industry. Join us on November 29th as Tami Bonnell shares her personal insights in our live webinar, Mastering Your Mindset: The Key to 4X Success in 2024.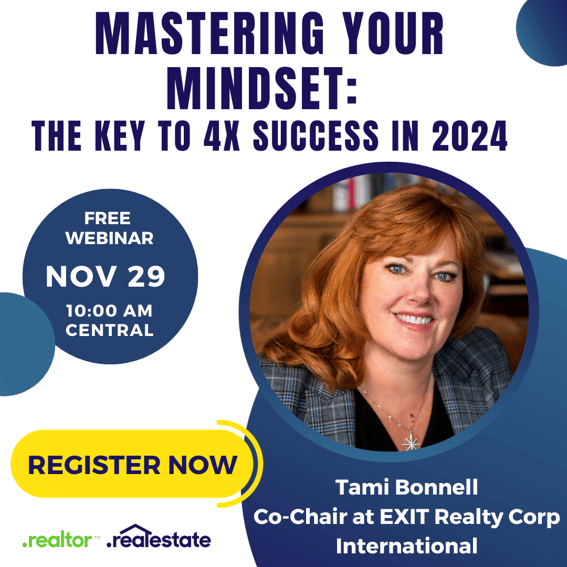 Subscribe to email updates