June 30, 2023
Influencer Approved ChatGPT Prompts
Influencer-Approved: 6 Game-Changing ChatGPT Prompts for REALTORS®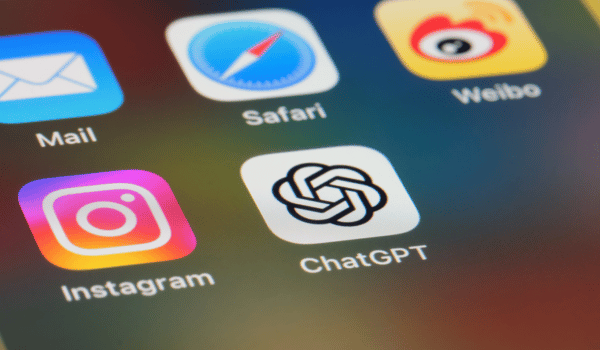 In today's fast-paced digital world, staying ahead of the competition requires leveraging cutting-edge technologies and innovative strategies. One such tool that has been making waves in the real estate industry is ChatGPT, an AI-powered language model designed to generate dynamic and engaging conversations.
This article presents you with six game-changing ChatGPT prompts specifically tailored for REALTORS®. These prompts have been handpicked and approved by influential real estate industry voices who recognize Chat GPT's potential to enhance communication, generate leads, and provide valuable insights to clients.
We understand that finding the right prompts can be overwhelming, which is why we have curated this list based on the recommendations of industry influencers who have witnessed firsthand the transformative power of ChatGPT.
So, whether you're looking to streamline your lead generation process or enhance the customer experience, join us as we dive into these influencer-approved ChatGPT prompts that have the potential to reshape your real estate journey. Get ready to unlock a new level of success and stand out in the competitive real estate market with these game-changing recommendations.
MARKI LEMONS RYHAL
Global Keynote Speaker and Podcast Host
TOPIC:
Lifestyle Marketing Campaign
PROMPT:
Construct a comprehensive marketing campaign that highlights the lifestyle and community benefits associated with homes listed in [Community] in [City, State]
ChatGPT RESPONSE: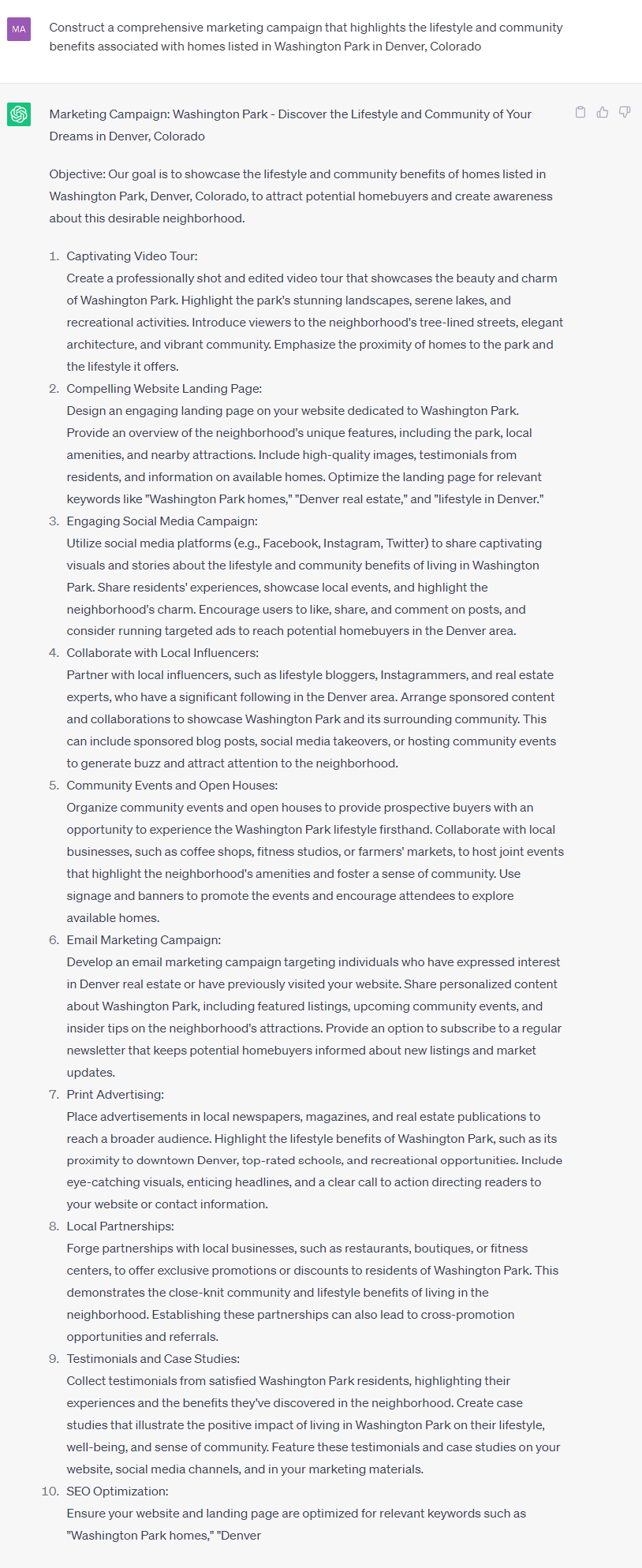 BONDILYN JOLLY
WAV Group Marketing Division Leader and CEO, bcollective.agency
TOPIC:
Determining Blog Content by Local Market Interest
PROMPT:
I run a website about real estate in [Los Angeles, CA]. What are some sub-niches I should be tackling with my content. Give me the results as a table with a number between 1 and 100 sub-niche to indicate the sub-niche popularity.
ChatGPT RESPONSE: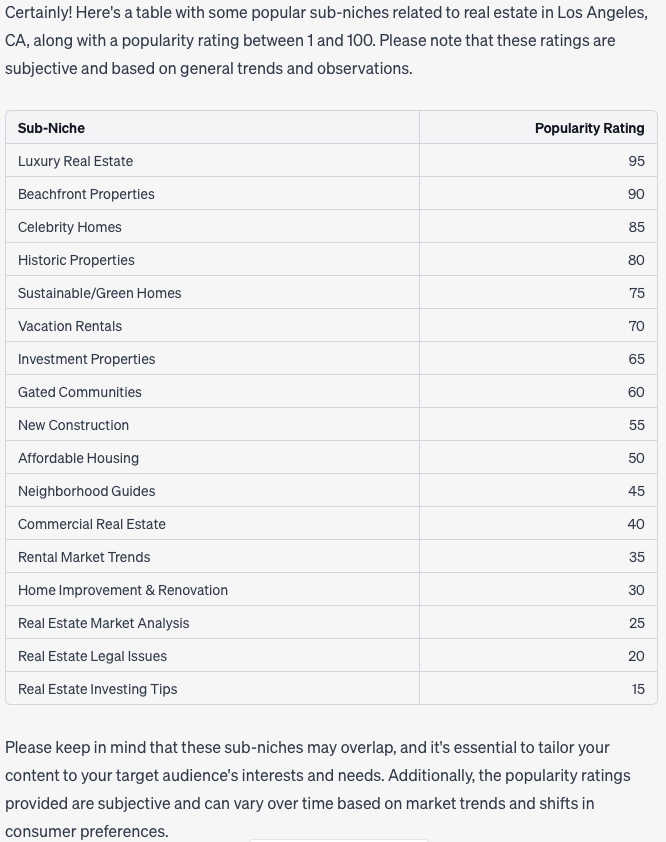 JEFF LOBB
Intl. Speaker, Sales and Marketing Coach, CEO at Coach52 and SparkTank Media
TOPIC:
Online Lead conversion strategy
PROMPT:
I want you to act as a Real Estate agent responding to [Lead type] leads that came in from [lead source] and write [number] email responses that have the ability to convert to an appointment, using catchy email subject lines and a [tone of writing] tone.
ChatGPT RESPONSE: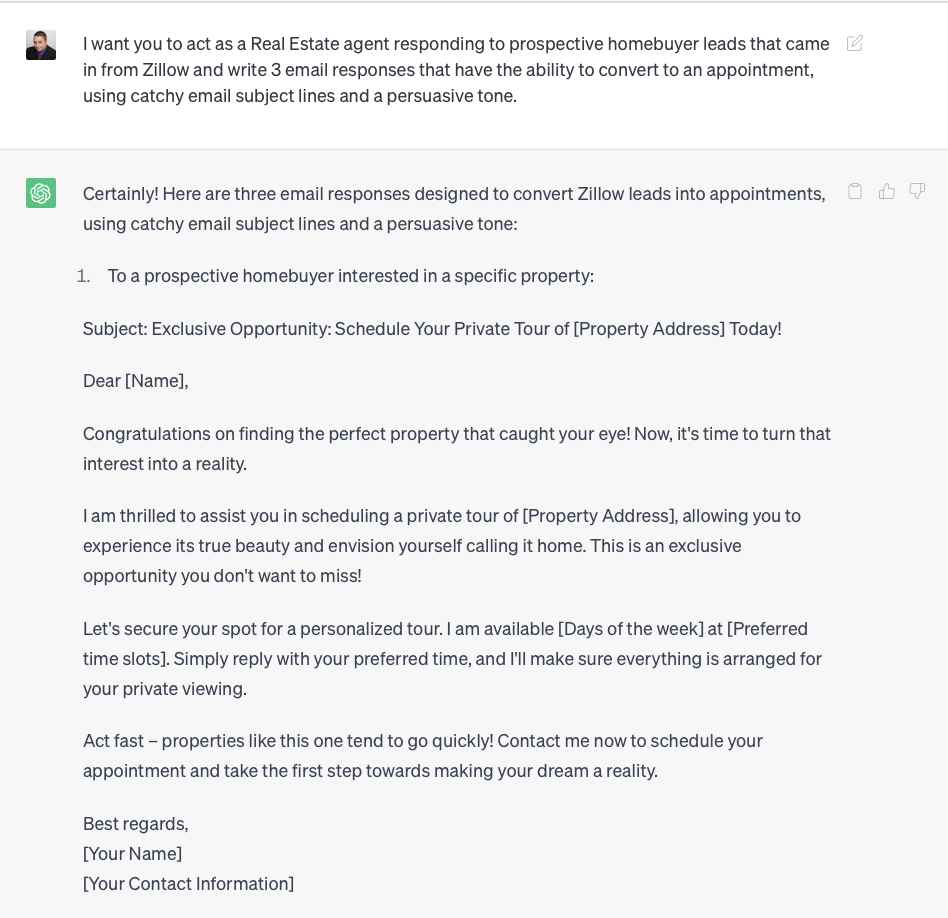 KATIE LANCE
CEO/Founder, Katie Lance Consulting and the #GetSocialSmart Academy
TOPIC:
YouTube SEO strategy
PROMPT:
Write me a detailed SEO description about my YouTube video about (details) The aim of this description is to rank #1 in Google for the keyword "Homes in (CITY). Include keywords and a compelling call to action. Also include 3-5 ideas for a title for this YouTube video.
ChatGPT RESPONSE: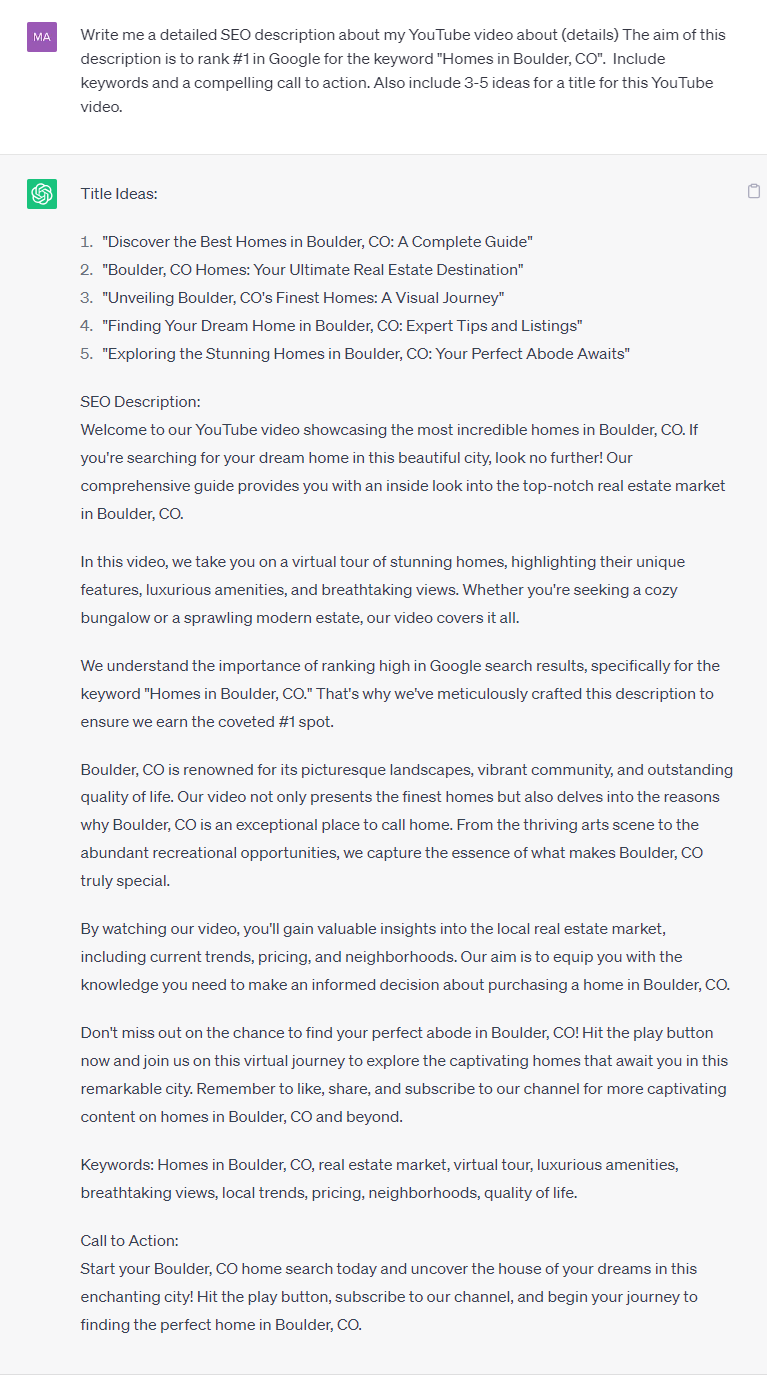 CRAIG GRANT
International Speaker & Educator, CEO of The Real Estate Technology Institute / RETI.us
TOPIC:
An Entire SEO Campaign in 4 Steps
PROMPT:
Identify 20 blog post topics a realtor should create to increase their SEO score for [Desired Niche or Topic] in [City, State]
ChatGPT RESPONSE: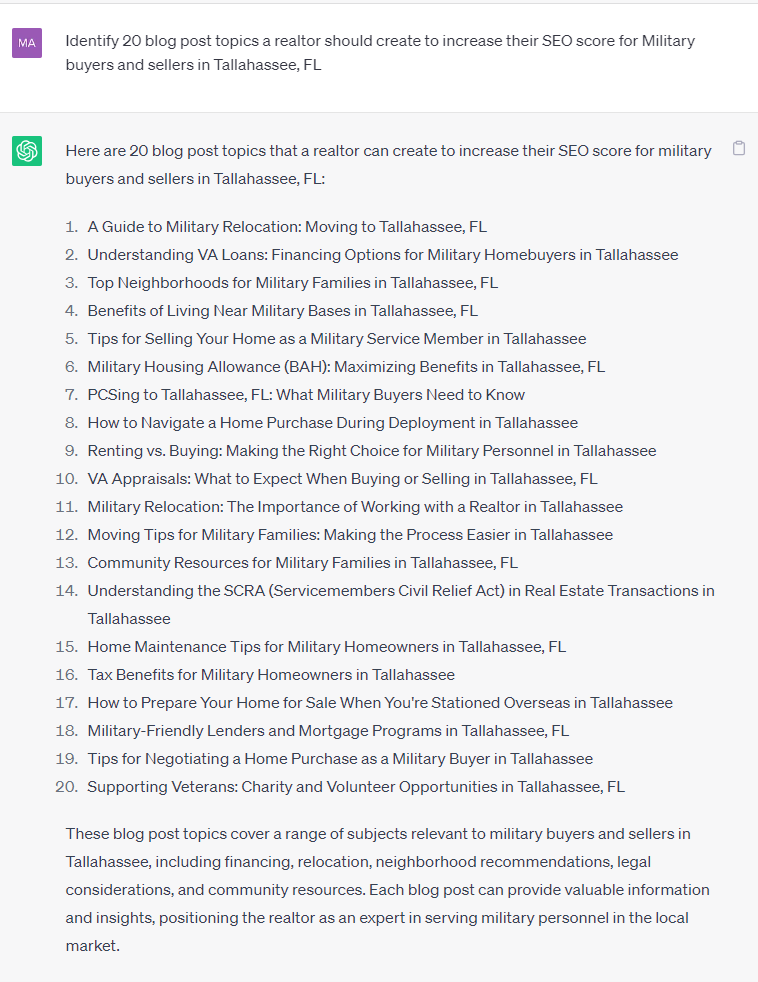 Craig threw in 3 more PROMPTS to create an entire campaign:
Prompt 2:
Now create a detailed outline for each of the 20 blog post ideas
Prompt 3:
Now write a 500-1000 word blog post based on the outline of idea 7 (and then 8, and then 9, etc.)
Prompt 4:
Now create a video script from the blog post created from idea 7
CONCLUSION
In conclusion, incorporating ChatGPT into your real estate business can be a game-changer. We hope you embrace these game-changing recommendations and unlock a new level of success in the highly competitive real estate market. By harnessing the power of ChatGPT, you can take your real estate business to new heights and leave a lasting impression on clients and prospects alike.
Subscribe to email updates